Main features of USDP-R500H
---
Perfect for live distribution Compatible with powerful network complement function "SRT"!
The USDP-R500H supports video reception using the SRT protocol in addition to RTP/RTSP distribution.
The SRT protocol is a protocol that incorporates the advantages of the UDP method, which has little delay, and the TCP method, which enables reliable transmission while checking the transmission and reception of packets. data can be transmitted while suppressing delay.
Compare
| | merit | Demerit |
| --- | --- | --- |
| SRT | Retransmission is performed only when a problem occurs, so all data can be delivered properly while minimizing the delay time. | nothing special |
| UDP | Since the time required for transmission is short (excellent in real time), the delay time is short. | Since there is no function to cope with loss during transmission, the image is distorted when packet loss occurs. |
| TCP | All data can be delivered properly. | Since it takes time for the data to arrive due to the operation of acknowledgment and retransmission, the delay time becomes long. |
We recommend using it in combination with the latest SRT compatible model " MEDIAEDGE Encoder K1000S " or " MEDIAEDGE Encoder K1000H ". By using the SRT protocol, you can improve resistance to network fluctuations.
Stable video transmission is possible
With SRT support, video transmission can be continued as much as possible even in environments where network communication speeds are unstable. In a test in which we connected a device that simulates a network failure, we were able to continue video transmission even when a 30% packet loss occurred, which would make it difficult to browse the website using a normal browser. .
A lineup that can be selected according to the application
The USDP-R500H has a lineup of two products, a model with 64GB SSD storage and a model without SSD storage.
Models with the necessary storage capacity for various purposes such as live streaming playback, playback of high-quality video content, schedule transmission, control playback using contact points, digital signage, etc. are available. You can choose.
Also suitable for digital signage display
The USDP-R500H has a function to lay out and display still images, videos, and telops. The layout and schedule of digital signage content can be managed via the network using our signage management software " Display Content Manager (DCM) ". DCM can also be used for status monitoring, remote restart, and scheduled transmission of serial commands to RS-232C (*), making it easy to build a remotely managed digital signage system. *USB serial conversion cable is required.
You can use cloud services such as "Marcus," which allows you to use content such as news and weather forecasts, and "Tit Sign," which automatically generates signage content from what you post on Twitter, so you can enjoy more signage content. can be enriched.

2K compatible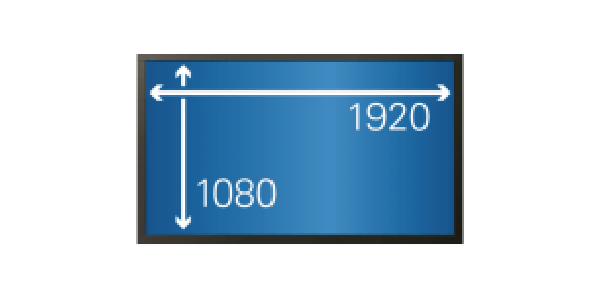 Stable operation, easy operation
While adopting a powerful Intel-based CPU, we have adopted a dedicated system equipped with our own developed player software on a Linux-based platform. We have achieved stability that sets us apart from signage players using general-purpose PC platforms.
When changing the IP address, etc., you can use the infrared remote control to configure the network settings on the screen (*), so you can easily change the settings during installation or after installation. can be done.
*Optional infrared remote control is required.
Infrared receiver standard equipment
Infrared receiver
Dedicated remote control
The USDP-R500H has a built-in infrared receiver (*). By using the remote control, it is possible to switch the displayed live channel or switch the playback of registered content. In addition, by registering the remote control code to the external device, it is possible to control using the infrared remote control function from the external device.
*Optional infrared remote control is required.
Supports external control
RS-232C external control
Pioneer commercial DVD/LD compatible command
Network control by WebAPI
In addition to controlling external devices by sending scheduled serial commands (*), it is possible to control playback using some of Pioneer's commercial DVD/LD compatible commands, so existing control controllers can be used. can be used to easily replace display equipment.
It is also possible to control from the network by WebAPI. If you need detailed information about these functions, please contact us using the inquiry form .
*USB serial conversion cable is required.